"Kerry always has his horses looking great and I consider him an excellent judge of a horse's condition. He is also a top bloke and a joy to be involved with"
Mr Albert Nocera - part owner of Don Luigi, Virgilio and Filomena.
---
I first met Kerry in 1984, when he was a strapper for Les Bridge. I got to know him well when he acted as Bridge's travelling foreman and accompanied our horse Drawn to Melbourne where Drawn won the Caulfield Guineas. We have placed a number of horses with Kerry since he became a trainer.
What appeals most about him is his hands on approach with horses, his honesty with owner's when it comes to assessing a horse's ability, and his patience in bringing a horse along. At the same time, he is attuned to the wishes of his owners and will dedicate himself to achieving those wishes. I have no hesitation in recommending Kerry as a trainer."
Mr Paul Harriman - part owner of Don Luigi (pictured right) and the multiple Group One winner, Drawn.
---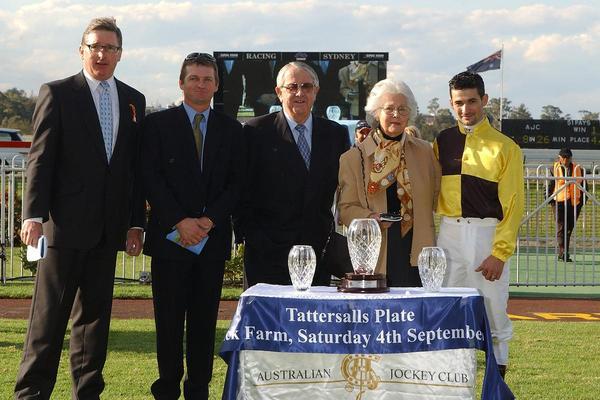 "Kerry took Don Raphael from his first race start in a Maiden Handicap at Nowra to a place in the Melbourne Cup field within 10 months, winning a listed race and two group races along the way. That achievement alone speaks volumes of Kerry's ability as a racehorse trainer."
Mr Don Storey - owner of stakes winner Don Raphael
---
"The story of Brilliant Light neatly sums up Kerry's skills and approach as a trainer. He picked him out as a yearling at the sales, ensured that we were patient with him as he slowly developed, nursed him through an array of niggles and setbacks, and then took him from a Class One provincial win to a 3rd placing in the Group One Doncaster Mile in the space of eight starts, winning six of those, including a Group Two and Listed race along the way. I often wondered whether anyone could have got as much out of 'Sparky' as Kerry did."
Antony Surace - part owner of Brilliant Light (pictured right) and Minaret
---
"I was somewhat of a reluctant partner when my husband first bought into Sir Spender, with limited knowledge of racing or horses. But Kerry takes the time to explain everything and his enthusiasm is contagious, to the point where I now eagerly await every race, both the racing and social aspect. I never imagined owning a (small) part of a horse would be so much fun"
Ann Marie O'Neill - part owner Brilliant Light and Minaret
---
"Seven years ago I was encouraged to join a couple of race horse syndications. I wasn't sure what to expect but I had heard it was a good way to get started into race horse ownership. Let the fun begin, I thought to myself. Alas, it never eventuated. I was barely informed of the horses progress when they were racing and found the whole experience quite off putting. I resigned from two of the syndications and the third horse was transferred to Kerry Parker.
What a stroke of luck! Since that first meeting with Kerry four years ago, I have found him to be one of the most honest and likeable people I have had the pleasure to be associated with.
I have enjoyed the experience so much, that Kerry now trains three more horses for me and many of my friends have joined me in experiencing the excitement of racing horses with Kerry.
One of the many thrills I get out of racing my horses with Kerry (besides his ability to place my horses in races where they are a chance of winning or of giving a great sight) , is going to the sales with him and buying a horse. This is a truly great chance to see Kerry's knowledge in the equine field.
I am sure that if I was to stop racing horses today, I will always maintain the great friendship that I now have with Kerry."
Gordon Crockett - Part owner of stakes performers Aliyana Tilde and Nextanix
---